Are you looking to add a tasty, versatile, and sustainable protein to your menu? Australian lamb is impressing chefs and diners worldwide. Free from additives, pasture-raised, and humanely sourced, it's a great source of iron, zinc, omega-3, and B vitamins – and don't forget its clean, delicious taste.
For Australian farmers, it's all about heart. Generations of Australian farmers like True Aussie Beef & Lamb, focus on the farm-to-table philosophy, offering "a pure product of its pure environment." Australian lamb is the perfect addition to a chef's menu, providing mass appeal, with its mild, grassy, tender flavour.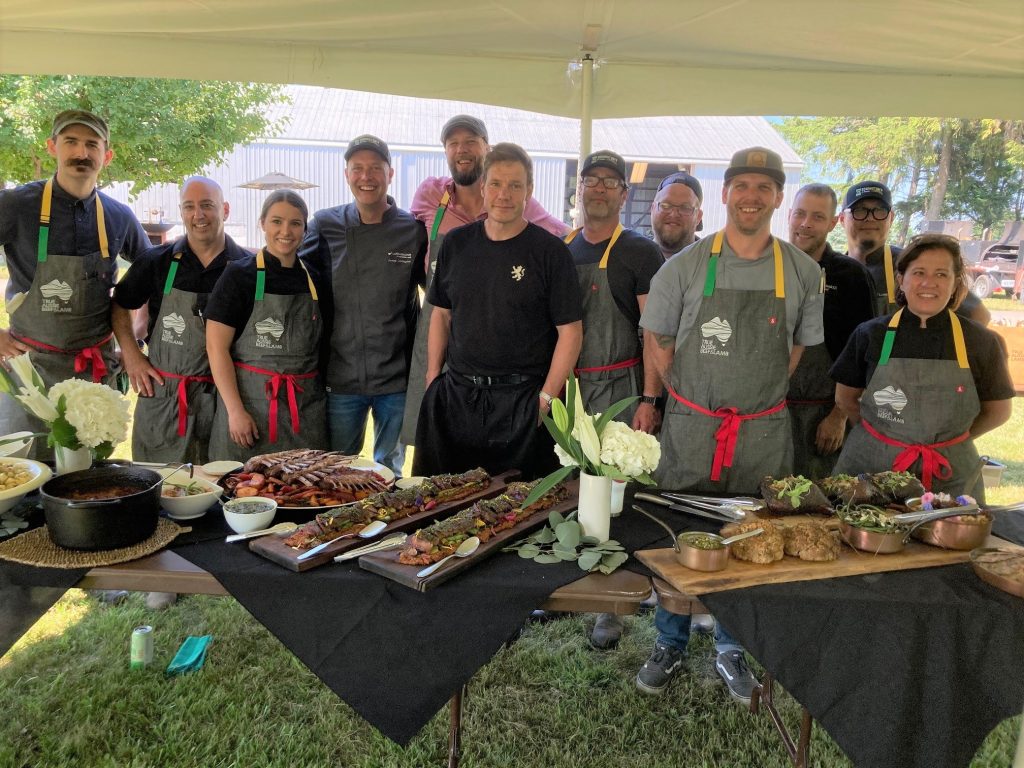 Australian lamb took centre stage at an 'Aussie Lamb, Eh?' event this summer, held in conjunction with FeastOn at Chef James Eddington's 25-acre farm along the shores of Lake Huron. "True Aussie Lamb is working to grow awareness of Australian lamb in Canada, and the event at James' farm was an opportunity to show off our premium, sustainable lamb alongside seasonal, local Ontario produce," says Sabina Kindler, North America business development manager.
RELATED: Elevate a menu with the quality and versatility of Australian lamb
The event made lamb the star of the show, highlighting its quality and versatility for 12 top-notch Ontario chefs. Moving away from the traditional rack of lamb and chops, the chefs paired up to create inspiring dishes using the shoulder, leg, saddle, and more. The event was a success, "a collaboration of chefs working together for inspiration and camaraderie to explore a product that is second to none," Chef Eddington recalls.
As part of the event, the group (including Chuck Nervick, MediaEdge's senior vice president) took a helicopter ride, enjoying a bird's eye view of the farm.
Chef Eddington began Eddington's of Exeter in 1997, featuring farm-to-table cuisine with international specialty products. "It's like getting avocadoes from somewhere native, you want the best of what each region has to offer," he says about incorporating Australian lamb into his restaurant. "With the way it's grown and the quality of the products, it's not surprising how much it fits perfectly into the DNA of what we do at the restaurant."
Chef Eddington previously took advantage of an exciting opportunity to visit Melbourne and get a first-hand look at their 30-mile farms, rotational year-long grading programs and sustainable growing practices, along with speaking directly to local butchers. Following this, he joined the Lambassador initiative, a global project for influential chefs from around the world who are passionate about spreading the word. These chefs volunteer to partner with Meat & Livestock Australia to help raise awareness and demand for this special product.
Chefs like James Eddington who are looking to showcase the freshest local ingredients, paired with top-tier specialty products need look no further than Australian lamb. Chef Eddington is proud of the dishes he serves, creating special novelties like his take on the classic Reuben, featuring cured and shaved Australian lamb, house-made dressing, Swiss cheese, sauerkraut, and freshly baked panini.
Australian lamb is a fantastic way to add diversity, sustainability, and a modern twist, to the plates and into the hearts of North American chefs and diners.