Australian lamb's popularity continues to grow, attracting chefs and diners alike with its delicious taste, climate-neutral sustainability, and the way it's taking menus to the next level. In part the success is coming from chefs who are using Aussie lamb's versatility to focus on the food, creating new dishes and incorporating fresh flavours into their menus.
For many chefs, it's not just about the food, it's also about storytelling. As a longtime chef and consultant, John Lee jumped at the chance to get involved with the Lambassador program, where he has been able to "help build a community of people with the same passion."
Lee emphasizes the importance of using food history and culture to tell the story behind the menu. He calls it "spreading the deliciousness," and Aussie lamb's quality and versatility make it easy.
Chef John Lee
Telling the story
Lee was afforded the opportunity to visit Australia, meet the farmers, and survey the region and the land through the Lambassador program. He noted the pride that Australia shows for its lamb, and the heart that goes into raising and creating a superior product, an easy thing for chefs to embrace on their menus and excite their guests.
Here in Canada, Aussie lamb is ready to star on the global stage by blending many cultures and telling many stories.
Teaching through food
How can chefs inspire diners to give lamb a try? Lee again stresses the importance of the story behind the ingredients and dishes to reach people and get them out of their comfort zones.
As part of Lee's passion for the product, he helps chefs overcome what sometimes inhibits them from a broader menu: the needs of the business. As lamb is a high-value protein, Lee suggests that chefs experiment with different parts of the animal, calling the off-cuts "upgrades," to produce delicious dishes for people to experience lamb. "The key to a successful lamb dish is balance and an understanding of how to get the most out of the natural, grassy flavours – there are so many wonderful things you can do with this product!" Lee's passion and experience have led him to create many mouth-watering dishes, from classics like grilled lamb chops to braised lamb shank to a sous-vide version of leg of lamb, embracing a wide range of spices and techniques from around the world.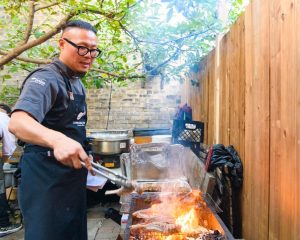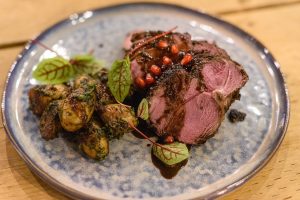 Lee raves about its versatility, saying, "The product makes it easy to adopt a variety of cooking styles featuring everything from the shoulder to the rump, leg, neck, rack, and loin. Whether your concept or the season leads to you slow braising or live fire, there is no limit on what you can do with Aussie lamb!"
RELATED: Australian lamb adds delicious versatility to restaurant menus
He recommends that chefs bring customers into the story by focusing on what sets Aussie lamb apart from the rest, "the quality is top-notch, and the rich unspoiled environment in which the lamb is raised results in that beautiful, natural flavour."
Creating conversation
Australian lamb is not a fad, it's here for the long haul and it provides chefs with the opportunity to – along with creating tasty menu options – focus on the story to embrace a new experience. Expanding the palate, ordering different things off the menu, and creating a moment of reflection is what Lee hopes for when chefs work with Aussie lamb.
Creating dishes that evoke connection and reflection, while educating and elevating the experience is what being a chef is all about. "I don't want my clients to think about my food when they're eating it, I want them to think about my food after they've eaten it," Lee says. "Deliciousness is something people don't often talk about it, but that's what it comes down to."
'Share the lamb' means creating a community, a shared experience, and inspiring chefs and diners to come out of their comfort zones to embrace a special product. Australian lamb provides the taste and versatility that chefs need to tell a story, create a conversation, and leave a lasting impression with their guests.
To learn more about Australian lamb or be connected to marketing support for Australian lamb on your menu, visit foodservice.trueaussiebeefandlamb.com.