By Tom Nightingale
In the heart of Saskatchewan, three kilometres north of Saskatoon, sitting above Opimihaw Creek and not far off the Saskatchewan River, is a place that typifies Canada's rich cultural history: Wanuskewin Heritage Park.
Wanuskewin's archeological resources represent 6,400 years of the Northern Plains peoples – twice the age of Egypt's Pyramids of Giza. Within its 240 hectares (590 acres), there are 19 sites that represent the active and historical society of Northern Plains peoples, composed of Cree, Assiniboine, Saulteaux, Atsina, Dakota, and Blackfoot. These migratory nations who roamed the plains came to hunt bison, gather food and herbs, and find shelter from the winter winds.
Already a National Historic Site of Canada due to its significance, a process is currently underway to recognize the heritage park with UNESCO World Heritage designation. It's a status that one could hardly argue the park doesn't deserve.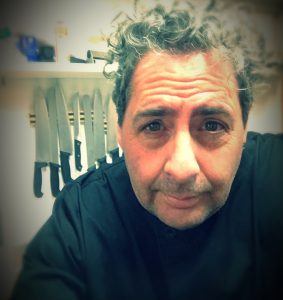 Managed as a non-profit site and organization, Wanuskewin's mission is to sustainably operate a Heritage Park under the leadership and guidance of First Nations people that contributes to increasing public awareness, understanding and appreciation of the cultural legacy of the Northern Plains. These days, the site serves as a scientific, cultural, and educational authority, a gathering place for present-day spiritual uses, and a tourist attraction. In addition, it is also a hub of culinary activity.
"Wanuskewin is a living reminder of the people's sacred relationship with the land," Executive Chef Doug Hyndford tells RestoBiz. "All of this feeds back into our non-profit structure.
Just as Wanuskewin's history and story are enthralling, Hyndford's own professional story is an intriguing tale.
He returned to Wanuskewin in September 2021, having previously worked as the chef on site over a decade ago, and as executive chef at two Saskatchewan Indian Gaming Authority casino properties before that. In the intervening years between his periods at Wanuskewin, he has worked at a Radisson hotel, as executive chef at the Saskatoon Inner Conference Centre, and as director of culinary at Spirit Ridge Resort in B.C., as well as serving as part of the membership chair of the Culinary Federation.
His work has even taken him to an isolated island in the middle of Lake Athabasca, "with just a crew of six geologists and prospectors," where he was cooking "behind an electrified bear wire in a couple of tents." They say there are no dull days in a kitchen; Hyndford's career is certainly testament to that.
A culinary experience true to the land
Ultimately, though, his journey led him back to Wanuskewin.
There, he works tirelessly to provide a variety of culinary experiences that stay true to the land, its history, its people, and its ingredients. The park is proud to offer an array of catering options that are healthy, made in-house with locally sourced products and ingredients, and reflect a mix of traditional Indigenous cuisine infused with a contemporary style. Offering regular fare, weekly specials, and menu changes to allow for creative use of seasonal ingredients, the core ethos of their culinary offerings is to revolve around pre-contact ingredients – that is, ingredients sourced from the land that pre-date European arrival in the area.
Those include foods evoking traditional fare such as goose soup and bison stew, foraged ingredients including chokecherries, sage, and Saskatoon berries, more modern twists such as bison burgers, as well as experiences such as Han Wi Moon Dinners, Bannock bakes, and dried meat platters. Wanuskewin and Hyndford also reach out the community through events, such as a recent soup-cooking competition with Saskatoon Winter Shines in which they entered a soup based around bison bones, black spruce tip, and muskeg tea.
Hyndford explains that much of Indigenous cuisine is based on an expansion of the idea of the Three Sisters – squash, corn, and beans, and the idea that they should be planted together, grown together, and eaten together – which sparks the conversation of the importance of the source of and the stories behind one's food. "Prickly squash varieties keep the raccoons and the deer at bay and the corn being a nitrogen-taker and beans being a nitrogen-fixer means that it also fixes its own soil. There is a whole holistic worldview going on in just one dish with corn, squash, and beans and the stories that come from that. In the dishes, there are stories and an importance that is translated through food."
Bison features prominently. The animals, which used to dominate the land in centuries past before being forced into near-extinction nearly 150 years ago, were reintroduced to Wanuskewin in 2019 through a partnership with Plains Canada and in ceremonies led by Elder Cy Standing and members of the Wahpeton Dakota Nation.
As of September 2021, the total number of bison at Wanuskewin is 18 and the herd is expected to grow to 50 animals. Those bison have not only enriched the land, they have helped to uncover even more historical wonder, leading park staff to discover four ribstone carvings "in the middle of nowhere."
"Food and smells and tastes conjure up memories or experiences," adds Hyndford. "That is no different in Indigenous cuisine. Sitting around the table breaking bread – or, in our case bannock – is an opportunity to share stories across generations and bring those comforts and good times. This is all such an important part of any culture, and to share that experience from an Indigenous perspective just gives a glimpse into the life, the history, and the values of us as a people at Wanuskewin."
Adapting for the modern pandemic world
The history lives on, but Wanuskewin – like so many places and organizations across Canada and the world – was thrust brutally into the spotlight of the 2020s pandemic age by COVID-19.
Hyndford admits it was a hugely testing period for the park. "There was a pivot trying to keep our culinary staff employed and we had to think outside of the box," he recalls.
Like any foodservice establishment, providing more channels was paramount. Offering takeout and delivery, keeping the gift store just outside of downtown Saskatoon stocked, and adjusting the menu all became key. "We pivoted to that 'we'll bring the food to you' approach," Hyndford continues. "In winter, it was hard to make those adjustments. I was getting tired of throwing out produce that I was prepping because nobody was here. So, we did things like pickle our veg to give it an extended lifespan – essentially finding ways to preserve and extend shelf life on some of the items.
Thankfully, though, Wanuskewin is transitioning back towards its pre-pandemic state. With visits and events back on the table and hopefully a long and unrestricted summer ahead, there is plenty on the horizon.
Showcasing Wanuskewin with the Culinary Federation
One upcoming highlight is the role Wanuskewin will play in the Culinary Federation's annual national conference, to be held this year in Saskatoon from June 12 to 16. There will be a wide range of events on offer to showcase the park's history and culture, from an interactive bannock bake at a teepee village to walking tours, a native plant walk, a back-in-time archeological walk.
Naturally, though, culinary offerings will be at the centre.
Though Hyndford still has significant involvement with the Culinary Federation, he did not want the festival's presence at Wanuskewin to become "Doug's Indigenous culinary experience", as he puts it. Instead, he wanted to open it up to other chefs and partners to contribute. Several other chefs, including some from SIGA, will join to hold interactive food stations at the event.
"This has been the site of so many different people coming together so I wanted to open up that experience to many Indigenous chefs," says Hyndford. "I thought I could do the backbone work on the usual fare and we can have live-action stations from other different Indigenous chefs to round out that experience and make it more fulfilling and inclusive."
The conference will be the perfect opportunity for people and culinary professionals from all over Canada to visit a place steeped in Indigenous history and life, to broaden their culinary and cultural horizons. All in all, it will be a tremendous advert for Indigenous food and history and culture.
"There are a lot of people and chefs out there all over Canada who might not have any idea about us or even Indigenous food in general," Hyndford concludes. "Things that people may not think about that have a totally different meaning in Indigenous culture. It's an exciting time to open up the doors and provide this experience. Our doors are open – come and see, smell, and taste what we have to offer here at Wanuskewin."
Tags:
Chef Doug Hyndford
,
chef Q&A
,
Culinary Federation
,
First Nations
,
Indigenous
,
Indigenous cuisine
,
interview
,
Saskatchewan
,
Saskatoon
,
Wanuskewin
,
Wanuskewin Heritage Park