The culinary industry has been struggling with staffing through the pandemic, but the Culinary Federation is doing all that it can to help ease the pain.
The Federation's Toronto branch recently held an exciting ice-breaker networking event at Shalit Foods Inc. in downtown Toronto with the goal of connecting chefs who are looking for more staff with talented up-and-coming and inspiring cooks.
Shonah Chalmers, CF Toronto branch president and culinary professor at Humber College, explains she was getting bombarded with emails from chefs lamenting the lack of staff, and decided that she and her CF colleagues could help.
"It was really a desperate call-out," Chalmers says. "So, I wondered what I could do from where I sit to help this."
It all started, she says, with the desire to introduce chefs in need to cooks who needed work in a safe space. It can be hugely daunting for young and aspiring professionals to connect with potential employers in a formal setting, so Chalmers wanted to break down those barriers and get conversations started.
"Chefs were telling me that so many interviewees weren't showing up, weren't emailing, weren't calling," she continues. "I think it's partly the pandemic and partly that fear of being judged in a formal setting. Because of those factors, they are missing out on great opportunities and restaurants are missing great cooks.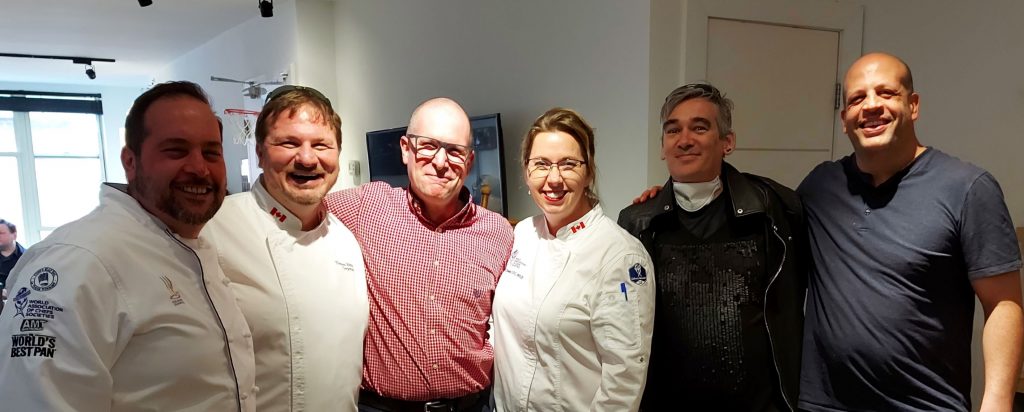 So, Chalmers decided to be a "wingman" for culinary students. She linked up with Carmelo Vadicchino at CookUp Co., drummed up interest from chefs – "people Carmelo and I both knew would treat young chefs and help grow them and train them" – and started reaching out to young chefs at various Toronto-area colleges to invite them.
She admits the process was a learning curve for her, too. On the advice of her teenaged godchildren, she focused more on social media interaction, filming an Instagram Reel in which she talked honestly about her career and what she was trying to do. Suddenly, there was enough fuel on the fire. "We got 3500 impressions overnight and loads more people signed up with people sharing it and talking about it," she says.
Ultimately, the event proved to be well-attended, with numerous chefs and CF members turning out to chat to the young cooks and students who attended. The list included:
Massimo Capra of Capra's Kitchen in Mississauga
Joan Monfaredi of TWO13 Kosher Food Design Catering in Toronto
Ted Reader of The Joint: BBQ in Whitby
Nick Liu of Dailo Restaurant in Toronto
Tony Fernandes of Royal Equator Inc. (hotels) at Toronto Airport Hotel
Andrew Cerniuk of 360 CN Tower (restaurant and events) in Toronto
Kire Boseovski of Feed me fine Foods: Big D's BBQ (restaurant, catering & meal prep) in Mississauga & Newmarket
Amanda Ray of Drake Devonshire in Prince Edward County
Laura Maxwell of Drake Hotel in Toronto
"Chefs started arriving and some wanted to talk to caterers, some to hotels, some to restaurants," recalls Chalmers. "We got a really great diverse crowd. In the end, the chefs were so thankful."
It has proven successful, too, with several of the attendees having since been hired for jobs that in some cases they would never have been brave enough to apply for via a typical interview process. "These inspired and aspiring young cooks have met chefs they're not going to forget, and the chefs have met people that they are going to be keen to work with," Chalmers beams. She notes there has already been keen interest in similar events in the future.
RELATED: Canadian culinary progress promises a bright future
Not only was the event about inspiring the chefs of the future and connecting them with mentors and employment opportunities, but it also served as an invaluable educational experience for the senior chefs who attended.
"The bottom line is that we need to connect with the audience," Chalmers says. "The way we're hiring has to change. It doesn't change the hard work and the great food, but in some ways, we're going about it all wrong. Our soft skills are 20 years old.
"It's easy for the social side to be lost. Young people are good at socializing among themselves, but it can be intimidating talking to older people in the industry they want to be in, and we're in danger of ending up with talented people who really just don't know how to facilitate their own success. They need a wingman! We need to offer a handle for people to grab onto, we need to form and strengthen those bonds.
"That's our goal, always, and it's so worth it to add another piece in helping the industry recover and thrive."