Republished with permission from Nutrition for Non-Nutritionists, www.n4nn.ca.
Since COVID19 arrived, you already know about the importance of hand washing. This is a great first step in handling food safely. Remember to use the WHO method to wash your hands every time before touching food or setting the table.
When it comes to serving food safely, there are some additional simple steps you can take to help you keep germs at bay. For example, don't let your fingers touch the surfaces of of dishes or utensils that come into contact with mouths or food. Here are some examples and tips to help you build your healthy habits and serve food safely during COVID-19 and beyond.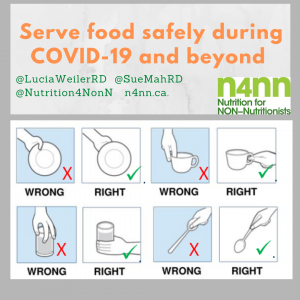 Don't put your thumb on top of a plate to hold it.
Hold plates underneath with your thumb on the rim.
Don't touch the inside or lip of a cup.
Use the cup handle instead.
Don't let others touch the lid of your beverage container that comes in contact with your mouth!
Ask the cup to be handed to you and place the lid on yourself.
If others bring you a lidded cup consider removing it before you drink it.
Pour canned or bottled beverages into a clean cup instead of bringing the can or bottle to your lips.
Keep your hands off  the bowl of a spoon or prongs of a fork.
Grip utensils by the handle and don't let handles touch the food.
Don't share dishes, drinking glasses, cups, eating utensils.
Wash your dishes well in hot soapy water after each use.
Keep well and remember it is important to get information from credible, trustworthy sources during this time. Dietitians are regulated health professionals committed to providing evidence-based advice and information that is tailored to your personal needs and challenges. For the latest and most up-to-date information on COVID-19, visit Health Canada at www.canada.ca/coronavirus.