With a diverse population and a rich and ingrained history and culture, one of the many things Montreal is famous for is its thriving food scene propagated by a variety of talented and innovative chefs from all backgrounds.
Club House for Chefs was lucky enough to spend some time with four chefs who are helping to continue that tradition through a combination of invention, uniquely crafted home-brewed recipes and menus, and local food sourcing.
Chef Chanthy Yen: The Canadian King of Cambodian Cuisine
Raised in his Cambodian grandmother's Windsor kitchen after his family fled the Civil War, Yen has taken Canada's culinary landscape by storm with his passion for this underrated, underrepresented cuisine. The former Executive Chef at British pub Parlement opened Cambodian pop-up Touk in the same building during the initial pandemic shutdown and is also writing the very first Cambodian cookbook in Canada. He ultimately intends to give Touk a permanent home either in Montreal or in Vancouver.
"It turned out to be a huge success, not just for myself or Touk but for Cambodian cuisine as a whole, which I was able to bring into the spotlight internationally," says Yen of the Touk concept. "My favourite dish right now is the Nom Banh Chok. It's something that my grandmother taught me how to make and is a dish I always love to make. It's the dish that resonates most with the crowd that comes here, even those trying for the first time."
Yen explains that most Cambodian people in Canada arrived as refugees during the Cold War and many have not tasted the dishes or flavours he uses in a long time, creating an emotional experience as well as a sensory one. "For those who haven't eaten it in a long time, it's very heartfelt, almost dramatic. I've had guests who cried while eating it because they were torn away from their families and their environment. For people trying it for the first time, it almost feels like a Michelin-star experience because you are having the whole-body sensational experience of eating Cambodian food, which is fragrant, fresh and new to the scene in North America."
Dan Geltner: A Montreal Food Story
Having spent all his life living in Montreal raised on Israeli and Jewish cuisine, Geltner sees deli and bakery Hof Kelsten as something of a second home. The concept, he explains, is a French bakery with a Jewish twist based on the concept of using traditional home recipes. Sourcing ingredients locally and organically in Montreal and utilizing products like Club House La Grille® Montreal Steak Spice, Geltner has forged a reputation built around popular staple dishes including a brisket sandwich, in-house smoked salmon, and rye bread.
"I was born and raised in Montreal, going to all of the best delis around the city," Geltner explains. "I always say that I try to make things taste as much like the delis that I grew up eating from while trying to bring a lot of modern trends to the original flavours… I get to bring my background to the food here."
During the pandemic, they shifted their operations to put more focus on restaurant wholesale as opposed to retail. As Geltner puts it, "we're selling more out the back door instead of the front door." With a longtime loyal clientele, Geltner hopes to build Hof Kelsten's brands and maybe one day expand into selling sauces to grocery stores. For now, though, he's content bringing a little bit of his background and upbringing to hungry Canadians.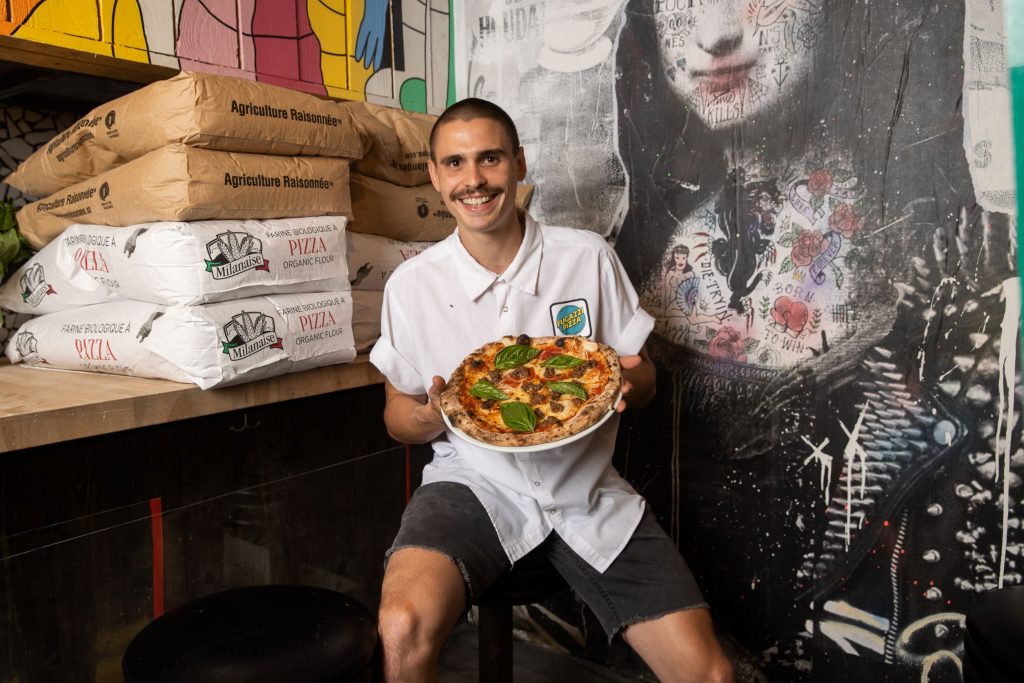 Nicolas Salinas: A Super Loco Time for Montreal Foodservice
Since growing up in a Chilean household and becoming a home cook by age 16, Salinas has become a self-taught restaurant chef and co-owner. "Montreal is about every part of the world all mixed together, but the European part is where a lot of techniques come in," Salinas says. "I'm from South America and put my South American flavour twists in everything I try to do. I've done many different types of cuisines including Indian, Asian, French, and Montreal is an open-minded platform for any kind of cuisine."
As part of whatever menu he is working on, Salinas enjoys using Keen's Dry Mustard, which he describes as an under-served product that chefs and cooks don't commonly use as a main ingredient. "It's very powerful and has a bitterness to it," he explains. "The flavour profile helps a lot with other spices like paprika, cumin, and pepper. Altogether, it makes a nice balance."
During the pandemic, the former Barroco chef launched Super Loco, a back-alley pop-up based on Chilean flavours, before making the tough decision to shut it down as he was struggling to pay rent, staff, and food costs during tough times. "I was making the dough from scratch, working from a factory, while being a single father to my son," he explains. "I was always trying to encourage my team and giving them more hours, and taking less for myself, so they could have full pay. I was barely making money myself, headed down the drain. I couldn't keep going like that."
It remains very close to his heart, though, and never far from his mind. "If I find a local on the street where there's traffic, I'll consider a Super Loco comeback."
Antoine Morneau: From Busboy to Pizza Man
Morneau, who has worked his way up to leading the kitchen and ever-changing menu at Fugazzi Pizza, notes how much the Montreal pizza scene has changed over the last decade. "Ten years ago, there was Pizza Hut, Pizza Pizza, and other very commercial pizzas," he notes. "Little Italy was starting to do more [independent] pizzas and was a hit with Montrealers. Fugazzi Pizza fits into that more artisanal scene."
Morneau takes great pride and care in offering vegan artisanal pizza that only uses ingredients from Quebec for the dough and offers flexibility in catering to evolving customer preferences. "We do a lot of sweet and sour," he explains. "One example is adding honey to the spicy sauce. We like this because it pops in the mouth with Fugazzi intensity."
He also knows the value of incorporating products like Frank's RedHot® Original Cayenne Pepper Sauce and Club House La Grille® Smoky Cedar Seasoning into his preparations to add an extra layer of flavour and intensity. "I use Frank's RedHot Sauce with beef for the sear flavour of the Club House seasoning, which works great. It adds a nice spice to tomato sauce, which, for me, is a go-to. Don't be scared to use them everywhere. If you like something spicy, Frank's RedHot® Original Cayenne Pepper Sauce is perfect. Plus, the Club House spices go with pretty much everything: chicken, fish, and beef, for sure."
While he's here, we got Morneau to settle an all-time pizza debate: does pineapple belong on pizza? "For sure it does!"